History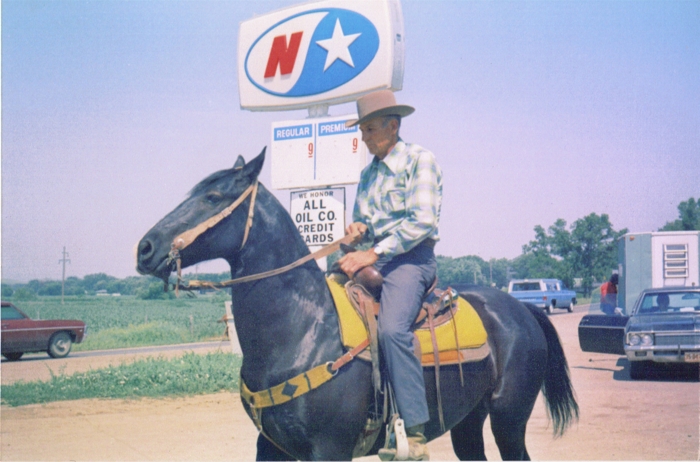 It was a cool spring evening in Nebraska. The sun had been down for about one hour, when a lean, tall cowboy from Missouri drove into town. He was a Ponca businessman for several years, but still had that very distinct Missouri drawl. He strolled into a bar in downtown Ponca, called Max's Place. Back in one corner, sitting around the table were some men, drinking beer and "shooting bull." Doyle Kastning approached the group somewhat cautiously, and said, "Boys, I have just signed a contract to put a rodeo in Ponca, in August." That evening, May 12, 1969, rodeo was born in Ponca, Nebraska.
A Board of Directors was appointed. They were Doyle Kastning, Max Carnell, Elmer Kamrath, Robert Hurley, Doyne Kastning, Bob Kastning, Jim Lamprecht, Dennis Carnell, Jim Saxon and Evan Backman. The second thing we had to do was build an arena. With the help of the good people of Ponca and surrounding communities, boards were nailed, post holes dug, gates were hung, wires stretched, bleachers built, and fences painted. In August, we had our first Grand Entry and on time. It was in 1972 that our Rodeo Association and the Ponca Commercial Club joined hands with the thought of putting on a bigger and better Day's of '56 Celebration.
In 1974, a group of Ponca Rodeo boosters, including Doyle Kastning, Ronald and Opal Abbott, Mick and 'B' Persinger, Chuck and Rhonda Carnell, Evan Backman and Shawn Persinger donated their time and effort promoting the Ponca Day's of '56 Rodeo by riding horseback from Marysville, Kansas to Ponca, Nebraska.Again in 1976, another group of rodeo fans took on a much tougher job riding horseback from Van Tassell, Wyoming to Ponca, Nebraska in just eight days. The sixteen riders made people across the state aware of the Day's of '56 Celebration in Ponca.
From the Rodeo's first $800.00 show to the present $19,000.00 extravaganza we have come. We have entertained approximately 124,000 people over the past fourteen years. We have had such noted cowboys in our town as Freckles Brown, Phil Lyne, Mayo Brothers, Donnie Gay, Larry Mahon, also PRCA's number one clown in the nation, and Miles Hare. We boast that we are the third largest PRCA Rodeo in Nebraska.
The 1982 Board of Directors are Chris Bostwick, Pres., Robert Hurley, Elmer Kamrath, Jim Lamprecht, Dennis Carnell, Evan Backman, Doyne and Bob Kastning, Wally Birkley, Jim Hoyer, Walt Graves, Merlin Buys, Larry Lukken, Chuck Carnell, Clyde Bostwick, Gary Jones, John Wortmann, Curt Neill, Randy Hughes and John Golden. (Written by Evan Backman, 1982)
There's been a lot of changes since that lean tall cowboy from Missouri drove into town.  There's now 20 members on the Board of Directors.  Doyle's son, Bob Kastning, and 2 of Doyle's granddaughters are members of the committee.  Chris Bostwick being the business manager for the last 37 years says, "there's been a lot of improvements such as bucking chutes, new crows nest & cat walk, all new south bleachers, new north bleachers, new arena fence, new storm-link fence all the way around the grounds, new lighting systems, new storage, and office buildings, and back pens are mostly all steel now, and in 2013, new concession stand and restrooms were added.  It's taken a lot of man hours to get this all accomplished, but it has been worth the time." Bostwick says, "the rodeo grossed $58,000 compared to the first $800 gross.  The Rodeo Association gives scholarships to the Ponca, Allen, and Newcastle schools, sponsors 4-H trophies, and had donated to the golf course, library fund, and to the June E. Nylen Cancer Center with funds from their TETWP (Tough Enough To Wear Pink) campaign that has generated nearly $20,000 since 2008.  
Thanks to all the support of local businesses and dedicated members; this has all happened over the last 46 years.  
(Current information provided by Chris Bostwick)